Bauen Projects builds to inspire.

Innovative problem solvers and relationship-builders, focussed on delivering high-end and alternative construction projects with integrity and passion.
It's how we see the world and how we want to operate that has defined us, our projects and our approach the traditional building model.

Our foundation is based on the two Directors' vision, passion and wealth of experience across all aspect of the building spectrum and project management and whom remain actively involved in all of our client's projects.

In striving to be at the forefront of an ever-changing market we reject the 'one-size-fits-all' approach with flexibility and adaptation better describing our ethos. As a result, we work with a number of designers, architects, trades and suppliers which enable us to bring the best possible solution to the table for projects which are as individual as you are.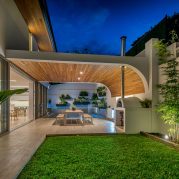 Samson Street walk-through